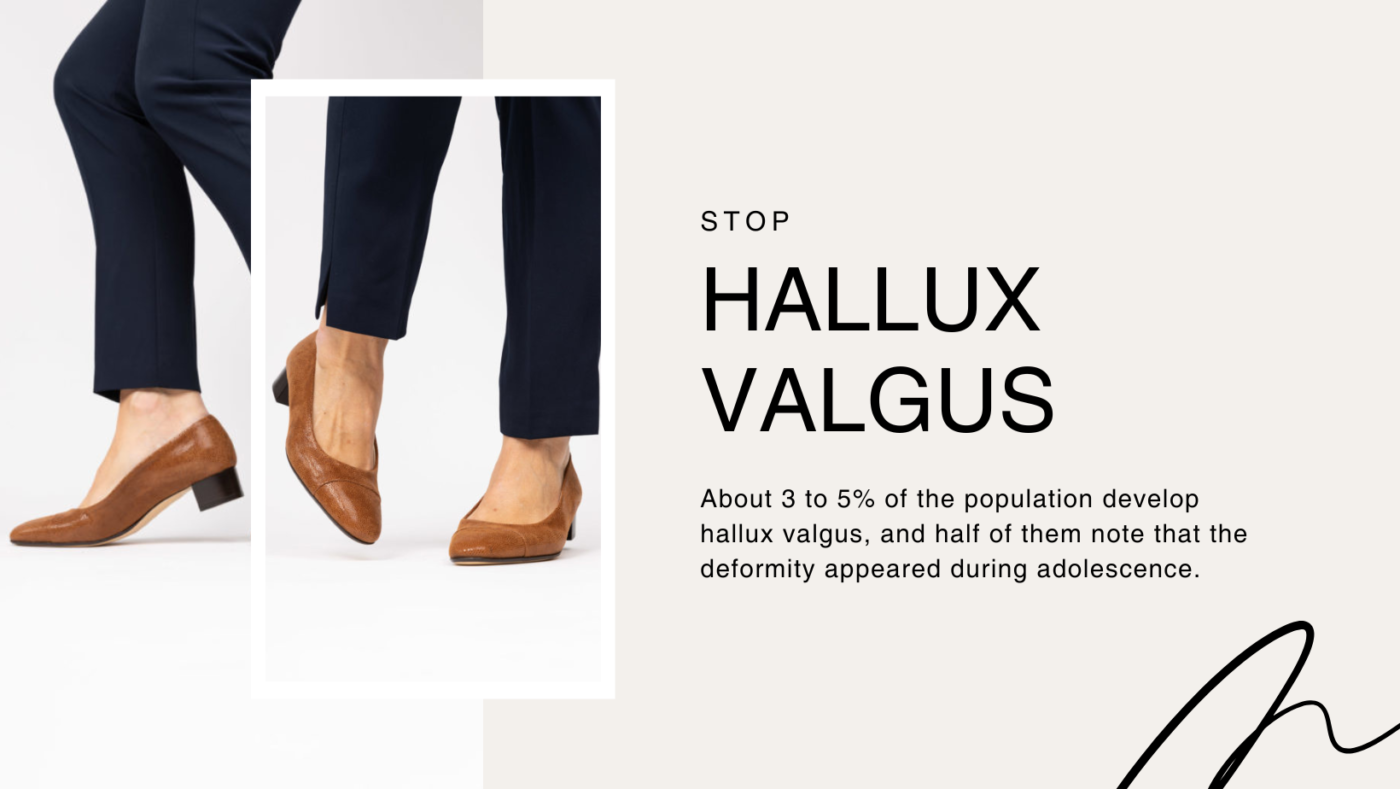 50% DE NOS CLIENTES SONT TOUCHÉES
Environ 3 à 5% de la population développent un hallux valgus, et la moitié d'entre elle note que la déformation est apparue pendant l'adolescence. En réalité, nous constatons dans nos boutiques que plus de 50% de nos clientes ont un pied sensible avec un Hallux Valgus naissant ou avéré. 
Le premier conseil est de choisir une chaussure dont la largeur est adaptée à votre pied afin d'éviter qu'il enfle et devienne encore plus sensible et douloureux, surtout en été. Nous conseillons de choisir une demie taille plus grand que sa taille usuelle: vos chaussures seront tout de suite confortables et leur forme restera plus jolie avec le temps. Une demie taille de plus ne fait pas des pieds plus grands visuellement mais on sent tout de suite la différence. Les clientes qui ont suivi notre conseil l'ont partagé avec leurs amies et cela a changé leur vie. 

50% of our clients are affected
About 3 to 5% of the population develop hallux valgus, and half of them note that the deformity appeared during adolescence. In reality, we find in our stores that more than 50% of our customers have a sensitive foot with an emerging or proven Hallux Valgus.
The first advice is to choose a shoe whose width is adapted to your foot in order to prevent it from swelling and becoming even more sensitive and painful, especially in summer. We recommend choosing a half size larger than its usual size: your shoes will be immediately comfortable and their shape will remain prettier over time. A half size larger does not make the feet visually larger, but you can immediately feel the difference. The clients who followed our advice shared it with their friends and it changed their lives.
HALLUX VALGUS SELECTION