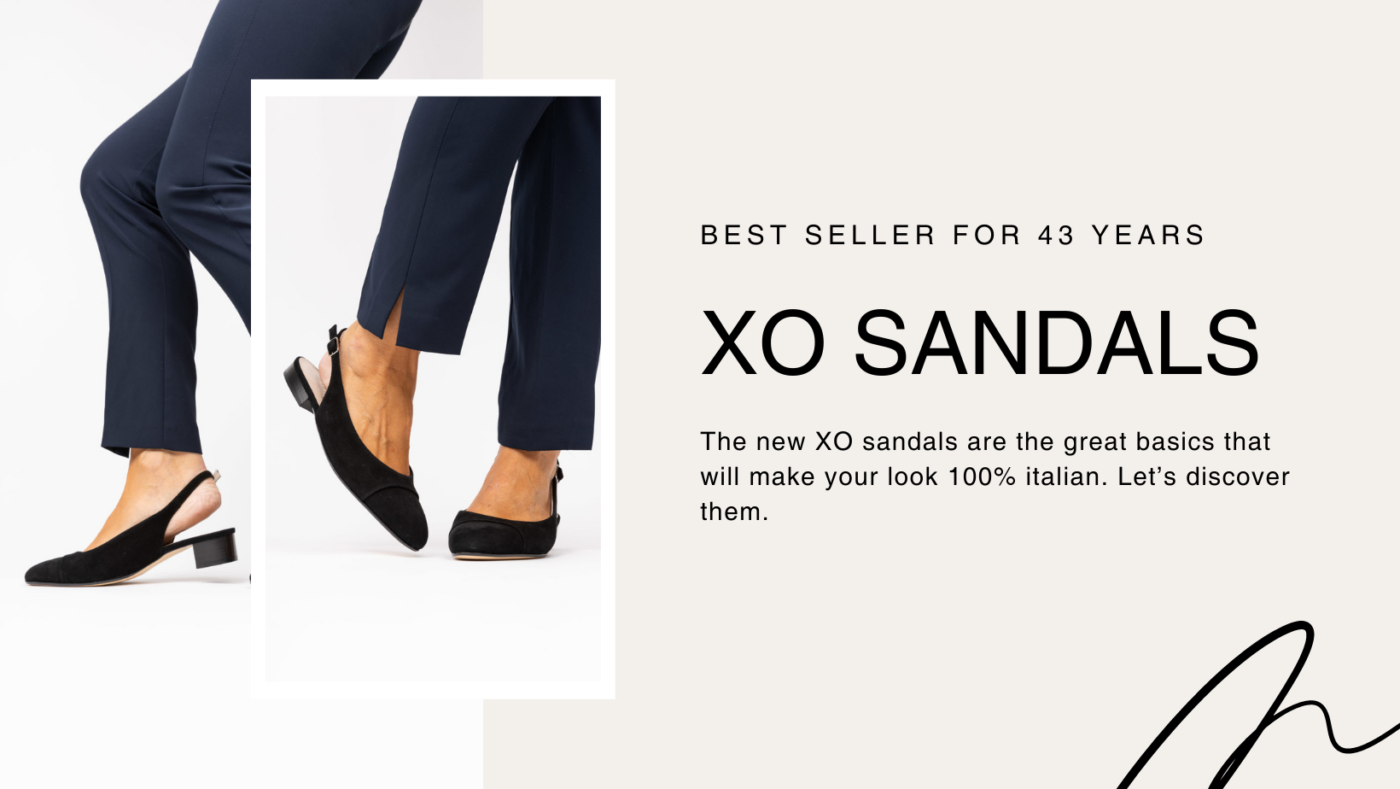 1 MODÈLE – 2 TALONS
XO existe en talon de 1 cm ou 3 cm. Vous pouvez porter les deux, c'est une question d'outfit. Envie d'un look plus sport, optez pour le talon 1 cm. Besoin d'être élégante, choisissez le 3 cm !
MATIÈRE ÉLÉGANTE
Tissus pailletés réflecteurs de lumière, veau velours hydrofuges souples, cuir de veau italiens, les matières exclusives des sandales XO sont confortables et résistantes aux intempéries.
LE SAVIEZ VOUS ?
Saviez-vous que vous pouvez visuellement avoir de plus petits pieds avec une version à pointe noire ? Les éditions "black point" sont magiques pour celles qui aiment avoir de tout petits pieds…
UN BASIQUE
Une paire pour aller avec tout : voilà ce que vous pourrez faire avec vos sandales XO. Chaque version est un basique en soi. À porter avec des jeans, des petites robes, des tailleurs.

1 MODEL – 2 HEELS
XO exists in heel 1 cm or 3 cm. You can wear both, it's a matter of mood. Want a more casual look, opt for the 1 cm heel. Need to be elegant, choose the 3 cm !
ELEGANT MATERIALS
Light reflective sequined fabrics, soft water-repellent suede calfskin, Italian calfskin, the exclusive materials of the XO sandals are comfortable and weatherproof. 
DO YOU KNOW THAT ?
Do you know that you can visually have smaller feet with a black tip version ? The "black point" editions are magical for those who like have tiny feet…
YOUR NEXT BASICS
A pair to go with everything : this is what you can do with your XO sandals. Each version is a basic itself. To wear with jeans, little dresses, suits.
XO SANDALS SELECTION